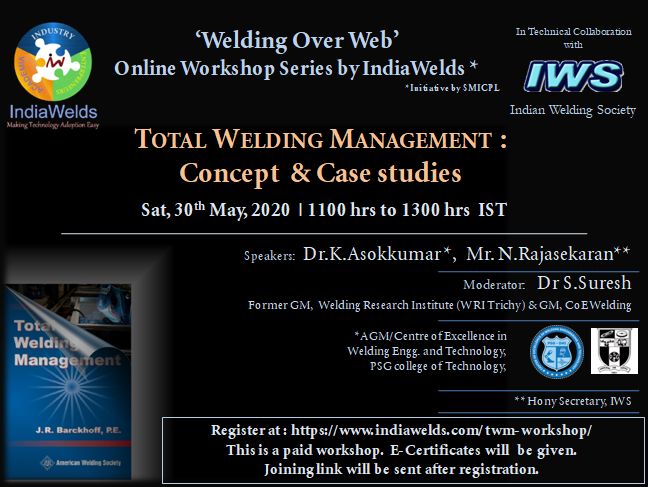 Date: Saturday, 30th May, 2020 | Time: 1100 hrs to 1300 hrs IST
(Scroll down to register)
IndiaWelds 'Welding over Web' online workshop series in technical collaboration with Indian Welding Society invites you to the next workshop.
About the Concept
Total Welding Management is a system focused on improvement. It includes management principles, and a planning process with a structured approach. When adopted by a company, it can improve welding quality and productivity, thus helping the company to become more competitive and more profitable. This was originally proposed by Jack R. Barckhoff, P.E.,USA and later adopted by AWS in a book.
In this workshop, learn the concept through case studies that will help to understand how it has solved real world issues and improved productivity.
Who should attend?
All welding related professionals who want to improve on the crucial aspect of productivity will benefit from the workshop.
Registration
This is a paid and limited seats workshop. E Certificates will be given to the attendees.
To register, please fill the form below. The joining link of the workshop will be sent after the registration. For any query, please feel free to contact us.