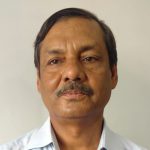 Prof. J. Ghosh Roy is a well known name in the welding fraternity. This M.Tech form IIT-D specialises in Industrial Tribology and also has been working on GMAW with Cold Metal Transfer.
He has more than two decades of teaching experience in Directorate of Training and Tech. Education, Delhi. He has also been actively involved in designing few innovative gadgets that even won prizes at national level competitions.
Besides, this enthusiastic reader is also a NSDC Certified Assessor on behalf of IIW. He has been actively involved in assessments across the country for quite some time now.
At IndiaWelds, he brings his insight, knowledge and experience for an active interaction between the industry and academia.