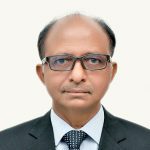 An enthusiast to the core, Mr. M.P.Jain is a well known name in the welding industry. Superannuated as Executive Director EIL in Feb 2019, where he started his career as a Welding/ NDT Engineer, Mr. Jain has worked on several mega projects. Some of them include Kochi Refinery, GAIL, Bharat Petroleum and Bombay High Projects of ONGC.
Having spent all his career in Oil & Gas industry where welding is one of the most critical process, he is rightly heading the Indian Welding Society as the Chairman of the North Zone.
This BITS Pilani Alumnus has also worked in Project Management, Quality Management, HSE Management and Company Management and has several  overseas experience including South Korea, Philippines and Sudan.
He is also a member of Quality Excellence Working Group as well as Safety Management working group of FICCI and is a qualified Lead Auditor for ISO9001, OHSAS18001 and ISO14001.
Besides imparting knowledge of welding, one interesting aspect of Mr. Jain is his love for running marathons! This avid runner has shown with his grit and determination that age is just a number to run even 25kms!
And under the mentorship of this awesome combination of knowledge and discipline, IndiaWelds is sure to soar high!