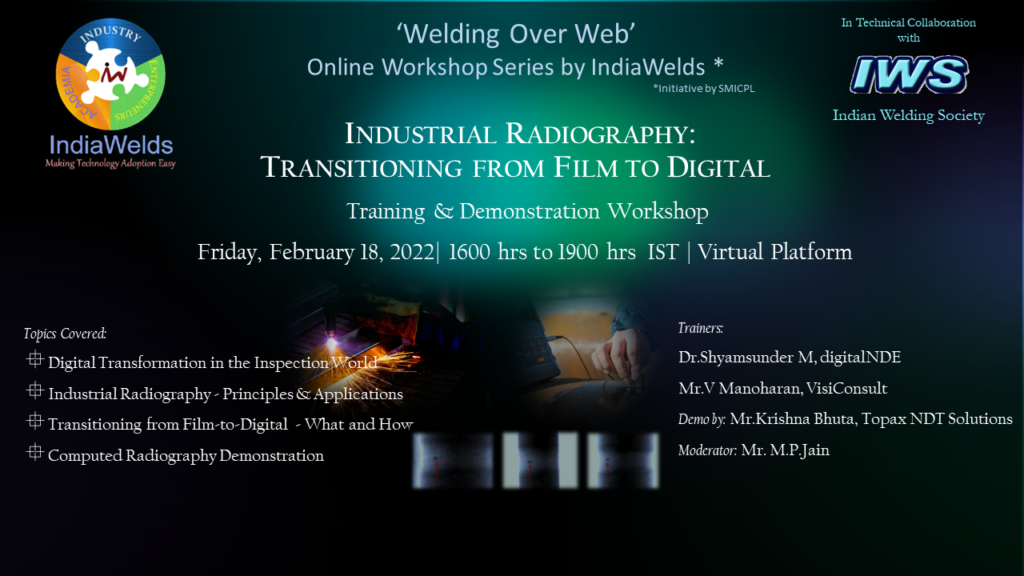 Date: Friday, 18th Feb, 2022 | Time: 1600 hrs to 1900 hrs IST
Workshop Fee: INR 300 | E Certificates will be given
About Digital Radiography
Digital Radiography today is an imperative tool to ensure the quality of welding. With the advent of digitization in the inspection methods, the need to shift from film to digital radiography is imminent for any inspection team. Processes that increase productivity while ensuring quality is sure to be the backbone of successful I 4.0. And transition from film to digital radiography is just one such process in welding inspection.
In this unique workshop, learn the concept through training and demo that will help to understand not just the principles of industrial radiography but also demonstrate the nuances and working of digital radiography.
Topics Covered:
Digital Transformation in the Inspection World
Industrial Radiography – Principles & Applications
Transitioning from Film-to-Digital – What and How
Computed Radiography Demonstration
Who should attend?
All welding related professionals who wants to learn the new methods of inspection that will help to improve the quality and productivity will benefit from the workshop.
IndiaWelds 'Welding over Web' online workshop series in technical collaboration with Indian Welding Society invites you to the next workshop. Please note that this is a paid workshop. Workshop Fee is INR 300. E Certificates will be given. International attendees, please send your request to join at [email protected] with your details.
Registration Closed