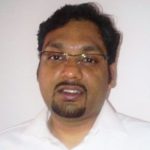 Mr. Som Ashutosh is someone who can juggle between his roles in academia and industry with ease.
Presently the AGM, Quality Assessment and Accreditations at AKGEC Skills Foundation in the domain of Industrial Automation, Robotics, Manufacturing & Fabrication, he has more than 15 years of teaching experience.
This ME in Production Engineering from Delhi College of Engineering, was an Associate Professor in the Mechanical Engineering Department of Indraprastha Engg. College, Ghaziabad.
An IWE from International Institute of Welding, he has more than 22 papers to his credit in various Journals and National and International Conferences. Besides, he has authored a book titled "Advance Welding Technology".
His experience in Skill Training and Certification in the field of Welding Technology and Engineering is definitely an asset to realize the vision of IndiaWelds.